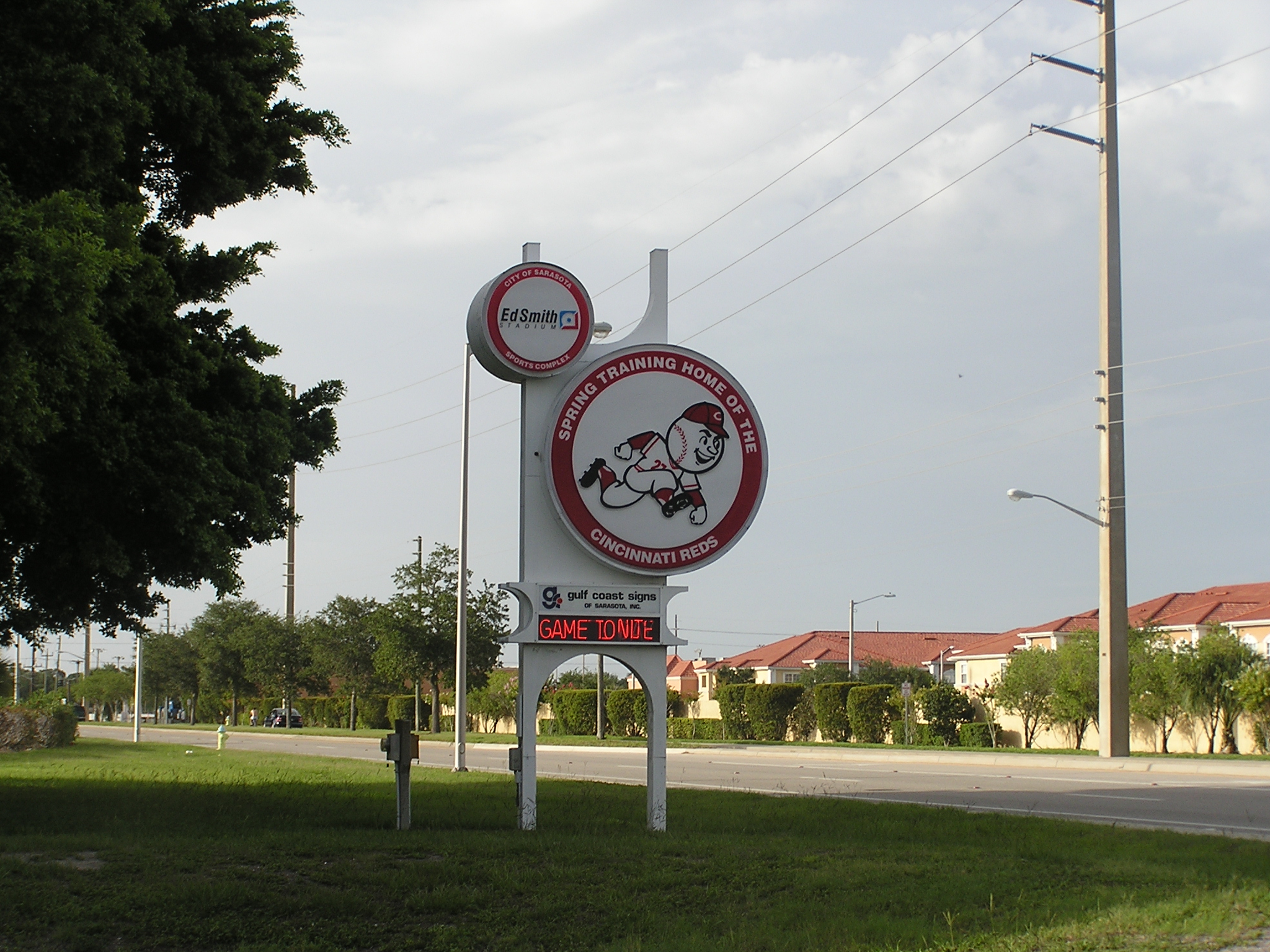 TEAM ::: SARASOTA REDS
LOCATION ::: SARASOTA, FLORIDA
MY FIRST VISIT ::: JUNE 18, 2007
OPPONENT ::: CLEARWATER THRESHERS
LEVEL ::: FLORIDA STATE LEAGUE 'A'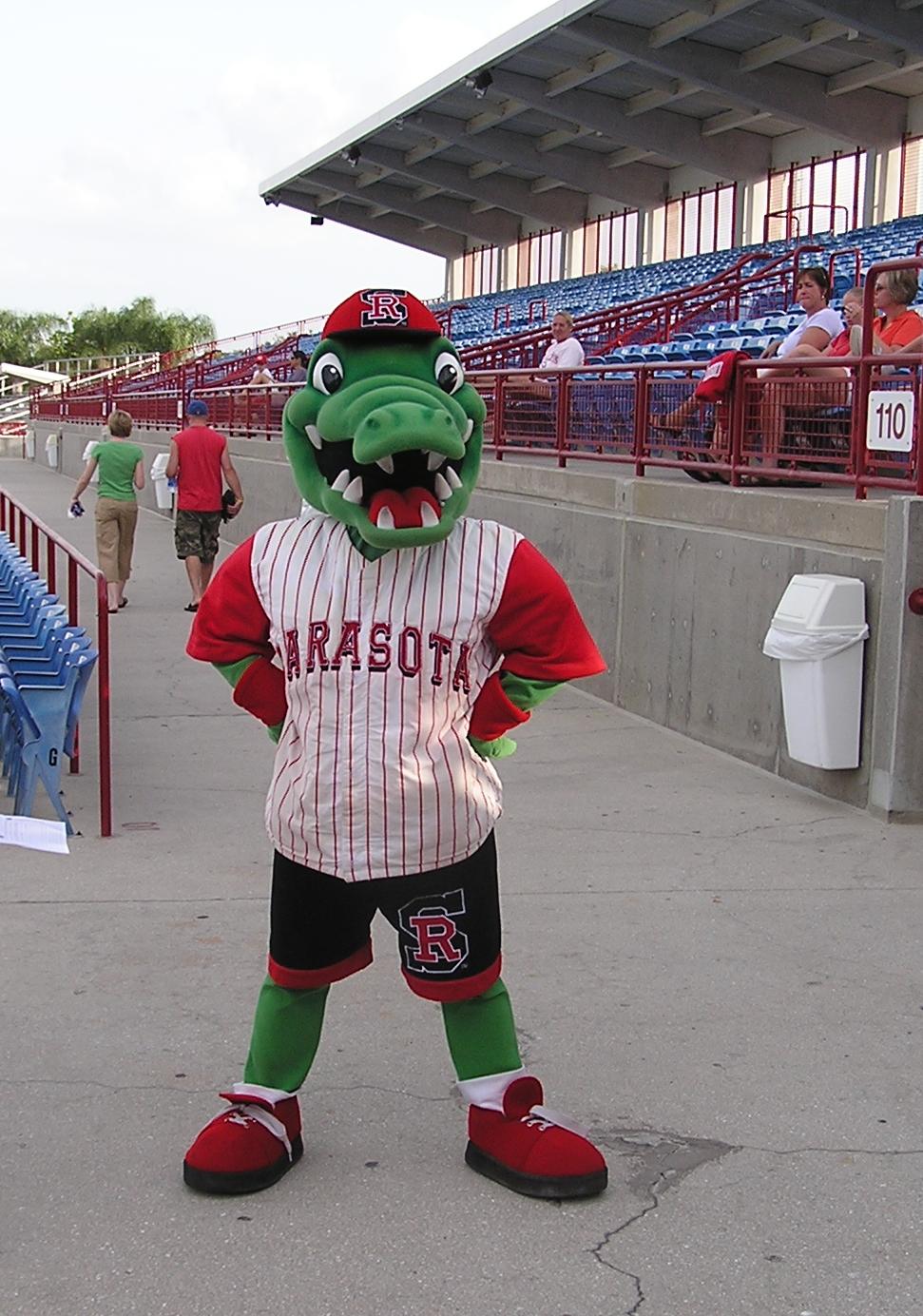 RATINGS

BALLFIELD ::: B
SCOREBOARD ::: C
FOOD ::: D
FACILITIES ::: B
MASCOT ::: A+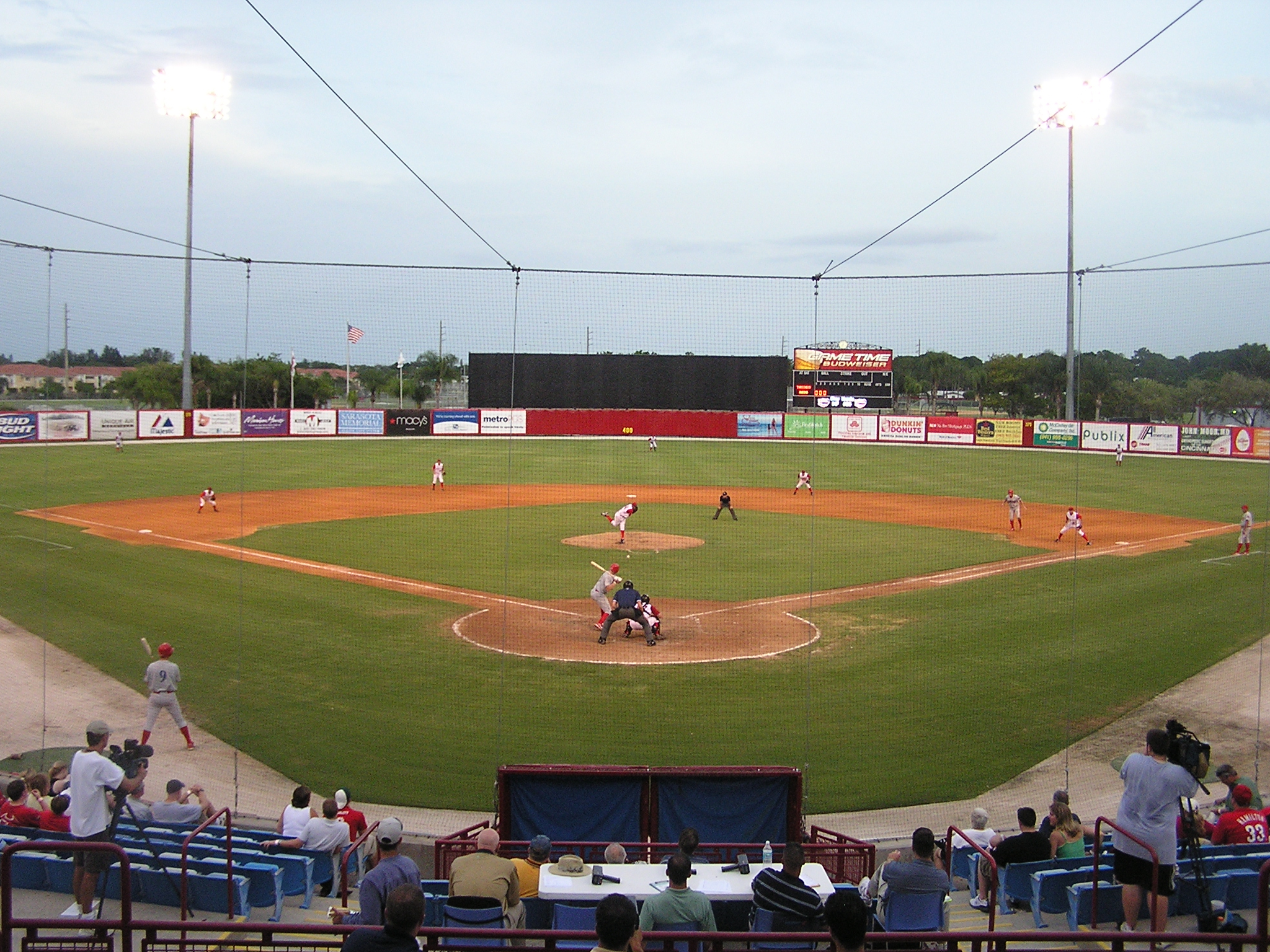 MY TAKE ON THE PARK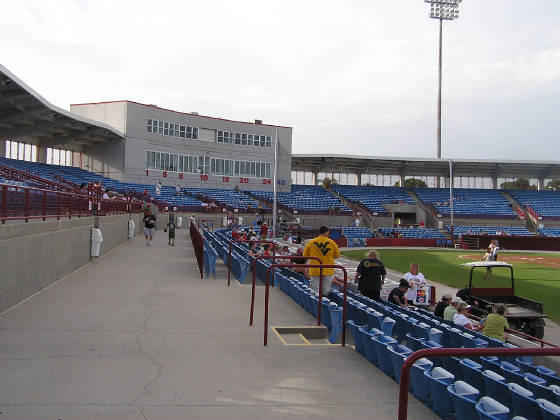 FLORIDA IS A WEIRD PLACE FOR BASEBALL AND WHEN YOU VISIT DURING THE
NON-SPRING TRAINING TIMES, IT IS VERY DIFFICULT TO SEE THESE PARKS AS A
PLACE WHERE MAJOR LEAGUE PLAYERS WOULD PLAY. THE LOCATIONS OF THE PARKS
ARE EVEN MORE OBSCURE.
SARASOTA FALLS INTO THE VERY OBSCURE TYPE OF LOCATION. SITUATED ABOUT 5
MILES OFF OF THE MAIN DRAG IN SARASOTA, ABOUT 1/4 MILE FROM A SCHOOL
SITS ED SMITH STADIUM.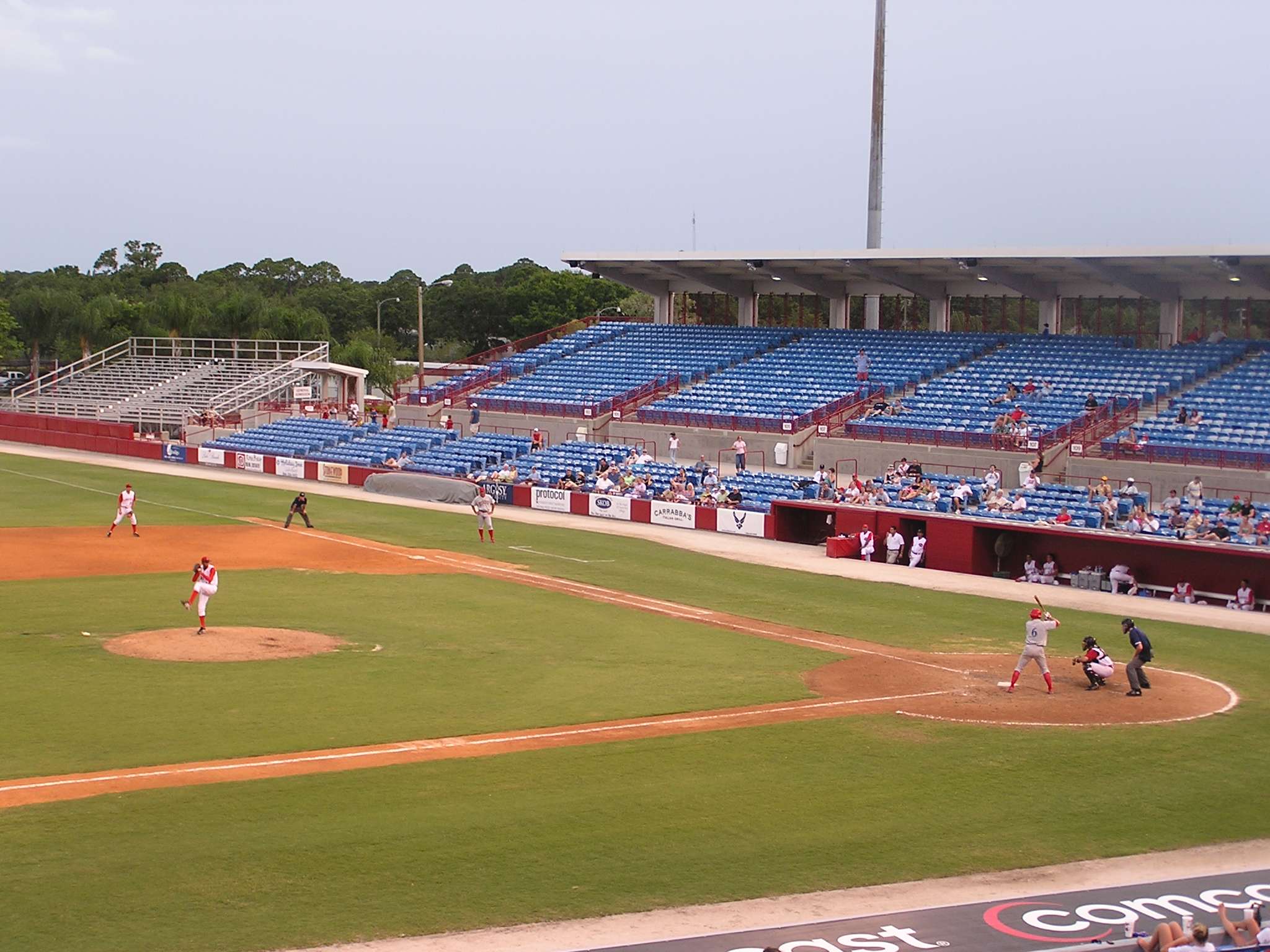 ED SMITH STADIUM IS A SIMPLE TWO LEVEL CONCRETE PARK WITH SEATS FROM
BEHIND 3RD TO BEHIND 1ST SEATING APPROX 10,000. THE 10,000 SEATS ARE FOR
THE REDS SPRING TRAINING GAME IN MARCH BECAUSE THE SARASOTA TEAM DRAWS
ABOUT 2000 PER WEEK. THE THING ABOUT THE 500 OR SO WHO VISIT NIGHTLY,
THEY MAKE THE NIGHT ENJOYABLE. SARASOTA IS ONE OF THOSE PARKS WHERE THE
HECKLERS MAKE THE PARK ENJOYABLE, NOT VULGAR OR REPETITIVE, THEY CHEER
THE GOOD AND ANNOY THE OPPONENT.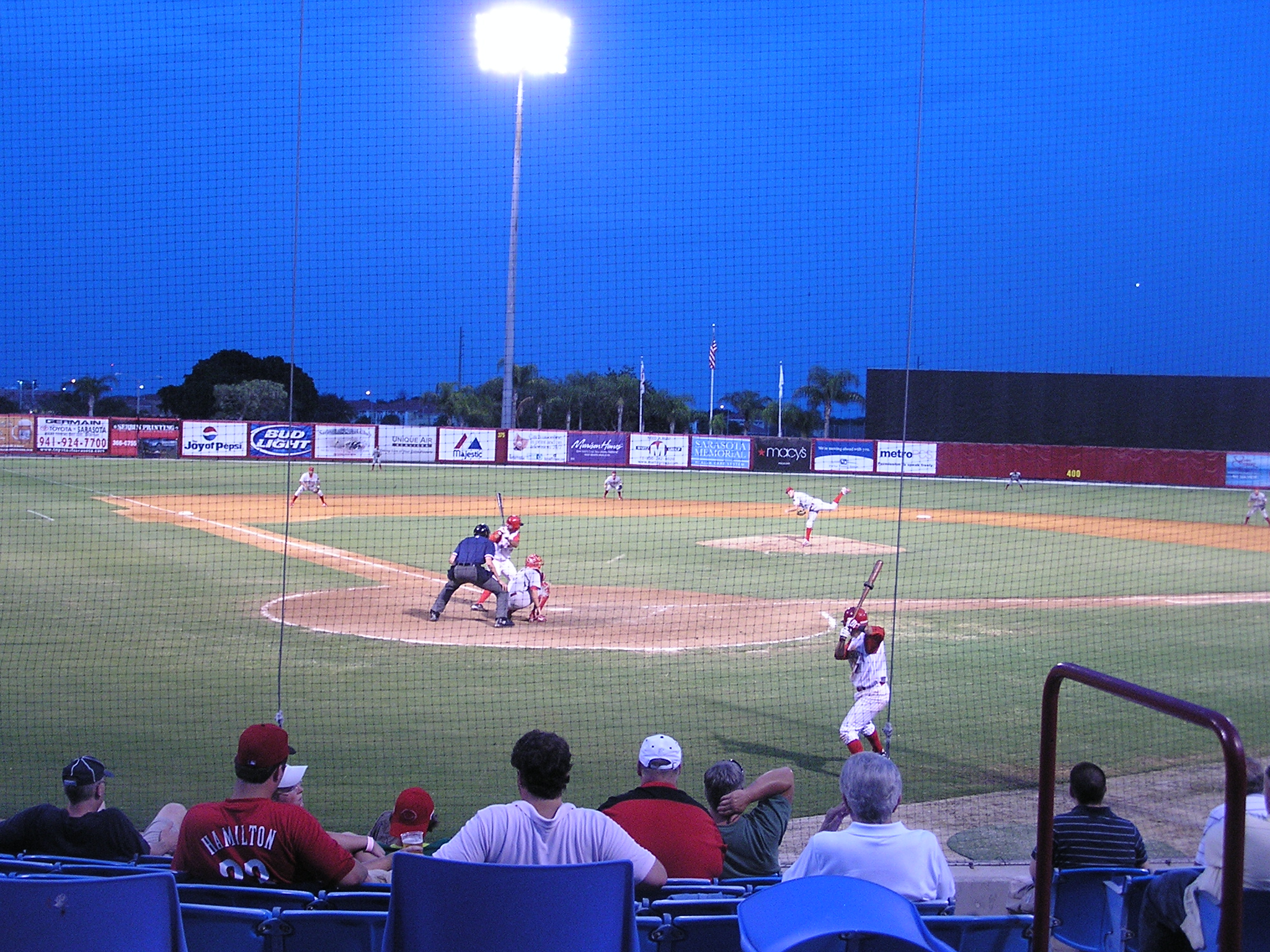 FREE PARKING AWAITS AT ED SMITH AND THERE SEEMS TO BE ENOUGH LOCATED IN
THE OUTFIELD. A LONG WALK FROM THE OUTFIELD TO THE HOME PLATE SEATING
SECTION, CHAIRS AWAIT THAT ARE NOT THE MOST COMFORTABLE BUT THEY ARE
CERTAINLY BETTER THAN METAL BLEACHERS.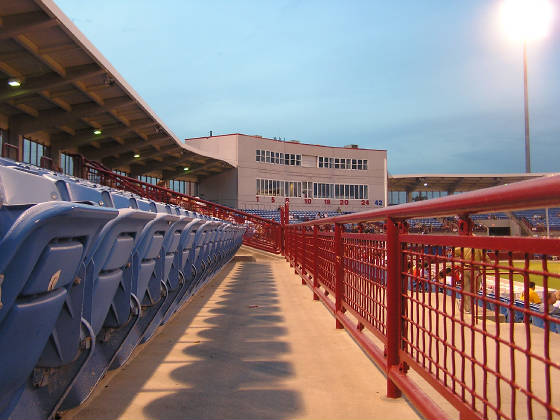 WHILE WATCHING THE GAME, THE SCOREBOARD DOES THE JOB OF GIVING THE LINE
SCORE BUT THAT IS ALL. A VERY GOOD SOUND SYSTEM HERE AND WHEN THE REDS
PITCHER STRIKES OU AN OPPONENT, THE PUNCH SOUND PLAYS ON THE SYSTEM.
THAT IS BIG FOR THE FLORIDA STATE LEAGUE.
THE FOOD HERE IS NOT VERY GOOD, $4.25 FOR A SOUVENIR SODA OR ON A
SPECIAL NIGHT, $10 FOR A TICKET AND ALL YOU CAN EAT. THE ALL YOU CAN EAT
SOUNDS GOOD BUT IF THE FOOD IS BAD, YOU WON'T WANT TO EAT IT.
THE MASCOT HERE, A GATOR, IS WAY TOO GOOD FOR THE CROWDS HERE. I FOUND
GATOR ENTERTAINING AND HOPED TO SEE A LITTLE MORE OF HIM.
ED SMITH STADIUM IS A TYPICAL FLORIDA STATE LEAGUE PARK. SIMPLY A PLACE TO GO TO SEE A
GAME.
THE LINE UPS
CLEARWATER THRESHERS MANAGER :::
24 Dave Huppert
SARASOTA REDS MANAGER :::
11 Joe Ayrault
CLEARWATER THRESHERS
2 Greg Golson cf
12 Brad Harman 2b
34 Jason Donald ss
21 Jeremy Slayden lf
6 Lou Marson c
5 Nic Jackson rf
25 Clay Harris 1b
9 John Urick dh
27 Welinson Baez 3b
8 Josh Outman p
29 Will Savage LP
SARASOTA REDS
9 Mike Griffin 3b
7 Mike DeJesus 2b
32 Jay Bruce cf
23 Adam Rosales 1b
50 Jeremiah Piepkorn dh
22 Danny Dorn lf
27 Craig Tatum c
28 Eric Eymann ss
29 BJ Szymanski rf
34 Daryl Thompson p
35 Ramon Ramirez WP
30 Josh Roenicke S
THRESHERS 010 020 000 3 8 0
REDS 000 000 04x 4 6 1
TIME ::: 2:53
ATTENDANCE ::: 472
WEATHER ::: 87 MOSTLY CLOUDY, EXTREMELY HUMID
SEND ME AN E-MAIL
LINKS
The Official site of Ed Smith's Spring Training team The Cincinnati Reds
Sarasota weather from WEATHER.com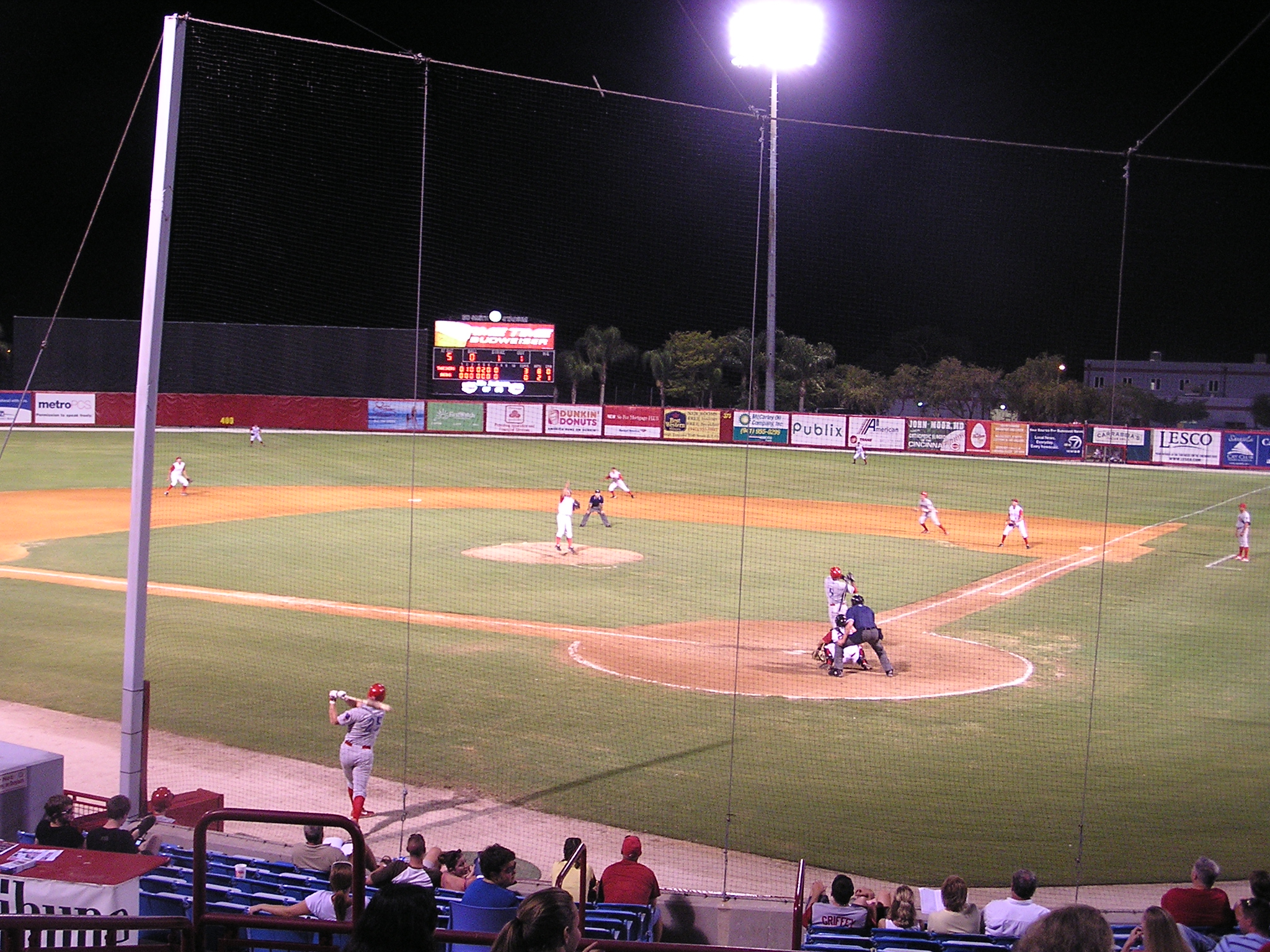 © 2000-2012 UNCLE BOB'S BALLPARKS
I AM IN NO WAY AFFILIATED WITH ANY OF THE TEAMS ON THIS PAGE ... THIS
PAGE IS MEANT FOR INFORMATION PURPOSES ONLY.